Ultimate Digital Marketing Guide for Your Business in 2018
Home

Ultimate Digital Marketing Guide for Your Business in 2018
Are you following a definitive Digital Marketing strategy for your business for 2018? Is Content Marketing the focal point of your Digital Marketing strategy? According to the latest stats, over 88 % of the B2B marketers use digital marketing as an integral part of overall marketing campaigns for their businesses. It's fair to say publishing & promoting quality content has dominated all the other Digital Marketing avenues in 2017 & according to experts, it will play an even greater role in converting visitors to clients in 2018! But in this era of information overload, you should be careful in crafting a niche content strategy for your client based on B2B or B2C. Let's discuss how you can integrate content marketing into your Digital Marketing strategy in 2018.
1. Explore Different Content Types For Different Digital Platforms
If you are creating a content marketing strategy in 2018 then you should first analyze your potential audience in your niche & deduce what type of content is suitable for your niche audience. You can try experimenting different content types like creating informative blogs, infographics, webinars, podcasts etc. You have to perform a regular "Content Audit" to deduce with what actually is working for your audience to create your own unique content strategy for your audience.
According to Smart Insights, these are the top digital marketing avenues in 2018: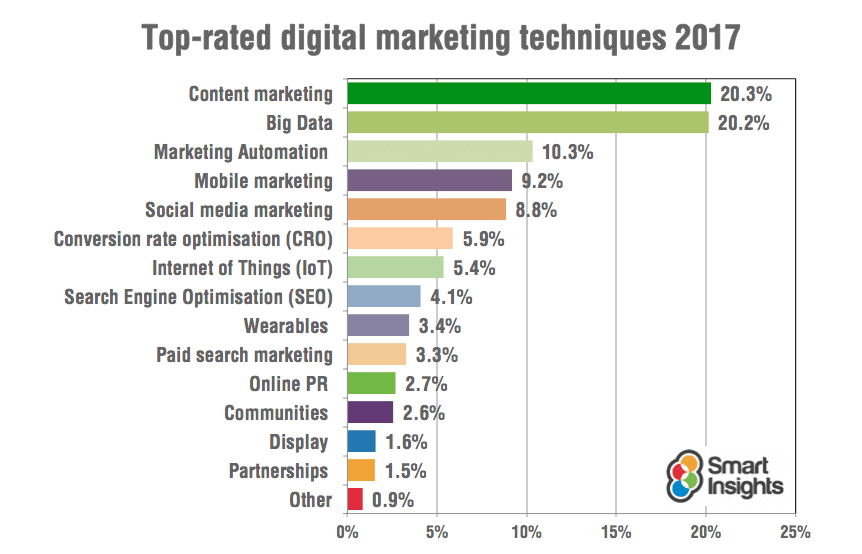 Image Courtesy: Smart Insights
2. Focus On SEO
Content Marketing is an integral part of SEO this day & you can complement your SEO campaign seamlessly with content marketing by integrating latent semantic keywords in your content which is one of the critical factors of Google Hummingbird. If you want to promote your business in a specific location you can create location specific content targeting the demographics in that location which will expedite your Local SEO in 2018
Quality content can help you to generate more backlinks for SEO which can improve your ranking in SERP.
3. Change Your Voice
Content writers should be able to change their writing style frequently based on industry & audience. Content preference can change from industry to industry. You should be fluid enough to write according to the specific industry based on their target audience.
4. Always Look Out For New Ideas
The Web is flooded with millions of contents published every day so in order to stand out, you should give your audience something fresh to get the maximum engagement.You can easily get some interesting & trending ideas just by listening to audiences on various social media platforms & other media channels like television & print. In this way, you can keep a track on untapped contents which can go viral in the future.
5. Focus On Creating Value For Your Audience
Before writing a new content you should do a self-audit & ask yourself why your audience will read your post & what value they will get from your post. You should only proceed if your content is fulfilling a need for your audience or there is a high probability that your content will go unnoticed in this sea of content. You should be careful to not to just copy your competitors but you have to add some unique value to your content to stand out from the rest.
6. It's Quality Over Quantity
This is a common mistake most bloggers. In order to maintain a minimum word limit, they try to fluff their content with irrelevant topics & images & distract from the original topic. So, it's very important to maintain the consistency & to stay "on-topic" throughout the post.
7. Distribute Your Content Smartly
Writing a great content is only the half job done. You have to market your content smartly to your niche audience through the most engaging social media channels where your audience hangs out. According to Smart Insights stats, Facebook remains the most popular content distribution channel. Instagram comes second & is the fastest growing network in history. It beats Facebook in terms of Social Media engagement. Twitter seems to be on the decline with the advent of What's App, We Chat & Instagram. Live streaming channels like Periscope are also gaining popularity. You can leverage these platforms to promote your content through video conferencing.
8. Repurpose Your Old Content
You should try to leverage your contents which have gone viral in the past. These contents should be updated, tweaked & re-structured for your old & also new audience by adding some new information regarding your industry. You can try to convert the old textual content into an awesome infographic or can also make a video presentation with the updated contents which will ensure that your old audience will remain engaged with your blog & will keep coming back.
9. Optimize Your Content For Mobile
According to Smart Insights users are consuming most of the content from mobile devices. As per, the report Mobile Digital Media time in the US is around 51% whereas Desktop Digital Media Time is 42 %. People spend around 3 hours a day on smartphones or tablets consuming different contents like music, videos, news, apps, social media etc. Hence, you should always optimize your content for mobile to reach out to more audience.
10. Create Stunning Visual Content
Visual content has become an integral element of any post in 2018 & will be even more crucial in 2018 for your content marketing strategy. You should be focusing on creating more informative visual content like infographics, infographics, charts, memes, videos etc. to increase the user experience & audience engagement. Textual content has reached a point of saturation & so it will very hard to keep the audience engaged with your content unless you are integrating some relevant & interesting visual contents.
11. Have A Clear Cut Goal
Every content you are producing must have a clear-cut purpose. There should be a clear Call-To-Action on your landing pages to entice the readers to the next step into your marketing funnel whether to opt for your email subscription, e-book download or to buy your services or products.
This data will help you to plan your content marketing strategy more precisely to get maximum ROI on your content marketing campaign.
Look at this awesome infographic from Search Engine Journal to understand how you can diversify your content in the following Digital Marketing avenues in 2018 to increase your traffic, leads & sales.
Image Courtesy: Search Engine Journal
Content Marketing is now the backbone of any Digital Marketing campaign. It has been a game changer for many businesses but many businesses have failed to capitalize on it due to a lack of clarity of goals in their Content Marketing campaigns. You can't just expect your readers to buy your products & services instantly just because they have read one of your posts. You got to keep them engaged with your blog by producing valuable & informative content consistently. Once you create a loyal follower for your blog then only you can pitch them your products to make the transition gradually. Content Auditing is a very crucial factor in content marketing to analyze the ROI on your content marketing effort from which you can easily discover your most valuable contents that are generating the maximum traffic, engagement & conversion.